Minecraft Server Address
Need help? Ask here!
Patch Notes
26.02.2023
Migratory Birds
Moonsama migrated to Exosama Network are usable in Carnage
IMPORTANT:

After migrating your Moonsama, import it back into the portal to use it ingame.
The entry you see in the portal that says 'migrated' is your OLD Moonsama, not the new one!
You will see your migrated Moonsama ready for import after you change your network to Exosama Network in your wallet.
29.01.2023
Super Gulag
The Gulag list is now synced between all Moonsama Minecraft servers including all Carnage worlds

As a reminder, the Gulag is a means for Moonsama holders to punish players that offend the community. As a Moonsama holder, type /vote gulag <player> to vote someone into the Gulag, or /vote free <player> to release them. 15 votes in favor are required. One player can cast 10 votes at most on their own.
With great power comes great responsibility. Abusing the power to vote someone into the gulag undermines its purpose and may result in the removal of the option to use this feature for everyone.
15.01.2023
RICO
Updated rules

Introduced the Moonsama R.I.C.O. Act (Moonsama Remedial Inevitable Carnage Oversight Act) to regulate player parties
See the new section on "Playing in Parties" for details
08.01.2023
Business as usual
Moontree and Moonflake now only work for holders (see previous patch notes for details)
Fixed issues with missing imported Multiverse Items
Moontree Offhand Changes
RESTRICTIONS

NEW Planted saplings need exposure to the sky to grow
01.01.2023
Happy 2023!
Added Moontrees as an offhand
Added Moonflakes as an offhand
BOTH OFFHANDS UNLOCKED FOR EVERYONE JUST TODAY
Moontree Offhand
Added Moontrees as an offhand

Place a fast-growing sapling
Keeps growing more saplings while you hold it
UNLOCKED FOR EVERYONE JUST TODAY

HOW TO USE:

(for holders) Import your Moontree in the Multiverse Portal
Type /offhands in the in-game chat to open the offhand selection
Click on the Moontree offhand
While holding the Moontree in your offhand, right click to place a sapling

Note: You may need to clear your main hand to use the offhand properly

STATS:

Placed sapling growth time: 10 seconds
Held sapling growth time: 1 minute

RESTRICTIONS:
Moonflake Offhand
Added Moonflakes as an offhand

Automatically unleashes a powerful blizzard when you get attacked
UNLOCKED FOR EVERYONE JUST TODAY

HOW TO USE:

(for holders) Import your Moonflake in the Multiverse Portal
Type /offhands in the in-game chat to open the offhand selection
Click on the Moonflake offhand
The Moonflake automatically actives when you hold it, and get attacked by a player

STATS:

Blizzard radius: 20 blocks
Debuff: Slowness VI for 10 seconds
Targets: ALL players within the radius except the wearer

RESTRICTIONS:

After selecting the offhand from the menu, it needs to charge first
Cooldown: 3 minutes
25.12.2022
Silent Night
No changes this week!
Added clarification to the rules that recording submissions MUST be uploaded to either Twitch, YouTube or Trovo
18.12.2022
The ball keeps rolling
The Moonbroom now only works for holders who have imported it into the portal
Added an info message about your current server when you join or switch the lobby
No gameplay changes
Note: Last week saw the addition of a repeating message in the chat that shows your name, playtime, game identifier and server identifier. This message is used by the Moonsama Police to ensure that submitted recordings are from the correct player and session. Last week, the playtime was displayed wrong, which is now fixed.
11.12.2022
A Magical Entrance
Added Moonbrooms as an offhand

Activate to quickly swoop in the direction you're facing
UNLOCKED FOR EVERYONE JUST TODAY

HOW TO USE:

Import your Moonbroom in the Multiverse Portal
Type /offhands in the in-game chat to open the offhand selection
Click on the Moonbroom offhand
While holding the Moonbroom in your offhand, right click to activate

STATS:

Thrust: Around 40 blocks horizontal or upwards
Speed: Yes
Fall damage: No

RESTRICTIONS:

1 minute cooldown after using
After being hit by another player, the Moonbroom will be set on a min. 10 second cooldown
04.12.2022
Sound: ON
Added PODs as an offhand

Play a song at your location within a 10 block radius

HOW TO USE:

Import your POD in the Multiverse Portal
Type /offhands in the in-game chat to open the offhand selection
Click on the POD offhand
While holding the POD in your offhand, right click to open the song selection

BUFFS:

Applied only to the one playing the song, while inside the limited area
Strength
Damage resistance
Mining speed

RESTRICTIONS:

7 minutes cooldown
You cannot play a song while another one is playing at your location

RECOMMENDED:

Turn on your game sound, but disable the music category. PODs play in the record audio category, so they don't overlap with the Minecraft music.
27.11.2022
New Territories
Added Asia/Pacific server at carnage-ap.moonsama.com
Expanded map from 1000 to 1200 blocks
Simplified poop refinery:

You will only get a single poop item, representing all your imported POOP
After refining, you only get a single refined poop item, representing all your refined POOP
Your actual amount of refined poop will be displayed in the post game stats
20.11.2022
A Fresh Start
Removed Hallowsama content
Removed Sewers
Removed Steel
Removed Moonstones

Added diamonds back in (not exportable)

Added exportable Beta Resources

Collect logs for Beta Wood
Collect Cobblestone for Beta Stone
Collect Iron Ingots and Iron Blocks for Beta Iron
Collect Gold Ingots and Gold Blocks for Beta Gold

Updated rules

Added new resources
Added section on special rules, listing deviations from the default Minecraft game logic
06.11.2022
Sh*t's got real!
Import POOP, and convert it at a refinery to receive Refined POOP
Locate the refinery using the refinery GPS
Added randomly generated structures

Expect chaos, lots of structures might have generated in unexpected locations due to some unfixed issues

Collect badges to acquire honor for a fun leaderboard
23.10.2022
Excremental Preview
Added POOP Refinery

Follow the Refinery GPS to locate the nearest refinery
Interact with terminals inside the refinery to convert POOP
Try attacking other players at your own risk

Added POOP conversion preview

In this preview, Pseudo POOP is a placeholder for the future POOP imports
You receive Pseudo POOP based in the maximum amount of POOP you will be able to process each session
Each ingame POOP item reflects 10k POOP tokens
Instead of Refined POOP, you will receive Almost Refined POOP
Consume Almost Refined POOP for random, fun buffs

Fixed issues where pumpkins weren't properly soulbound or couldn't be picked up
16.10.2022
Pumpkin Festival
Pumpkins are exportable as a special Halloween Resource

Kill monsters, loot underground structures, and harvest pumpkins by farming
Ingame pumpkins are soulbound and cannot be dropped on death
Pumpkins cannot be placed again once picked up

Added Hallowsama Special Event (reminder)

Kill creepers to receive Spooky Discs
At night, insert Spooky Discs into a Jukebox to play a special battle stage for extra pumpkins

Updated Rules

Updated penalties for breaking the rules
Improved wording in multiple sections
Updated section on rewards
09.10.2022
Spooky Time!
Removed Moorods and Gems
Added Hallowsama Theme
Added pumpkins as monster drops. You can also find them in loot chests in the underground sewers. (no hRSS exports yet!)
Added Bombons
Added Hallowsama Special Event

Kill creepers to receive Spooky Discs
Insert Spooky Discs into a Jukebox at night to play a special battle stage
02.10.2022
Bars of Steel
Added Steel Ingots and Steel Armor
Smelt Iron Ingots into Steel Ingots using a Blast Furnace
Populated Sewers with Gromlins
Leaderboards are still just for fun and fame
18.09.2022
Change of Colors
Removed Gromlin Eggs
Filled the world with new colors
Added gemstones

These drop from iron, gold, diamond and emerald ores
You can also find them in certain loot chests

Collected gems are added to your gem satchel

You will lose all your collected gems when you die

Collect as many gems as you can (goal is just for fun and fame!)
04.09.2022
Something Mysterious
Leather and player head leaderboards are just for fun
Some Gromlin Eggs remain to be hatched
Added a new underground structure which might hint at something new next week...
28.08.2022
A Rodden Situation
Added more rods to add to the chaos

Boomrod: Throw ignited TNT
Doomrod: Throw three Wither Skeletons

Vastly increased the spawn radius
21.08.2022
Choo Choo?!
Added various rods that drop randomly when breaking wood, stone, iron ore, gold ore and moonstone ore

Boorod: Throw a ghast
Choochoorod: Throw rails then ride along them very fast
Goorod: Throw a slime
Poorod: Throw poop
Zoorod: Throw a random animal

Players drop their heads on death
Farm as many unique player heads as you can!
Reduced the world size for extra carnage
Keep holding that egg
14.08.2022
Boom
Cows explode when killed!
Gather leather for ...something
Keep holding that egg
07.08.2022
Moo
Reduced the damage of Moonrods
Added the Moorod (not a spelling mistake)
24.07.2022
End of Alpha
No more Alpha resources can be exported
You can continue to use your bait to catch fish
10.07.2022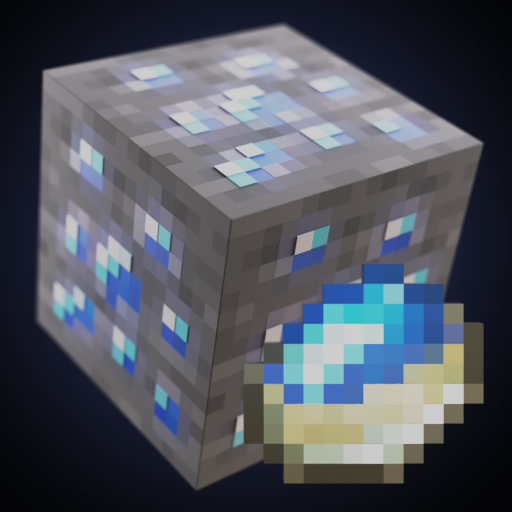 Moonstones and EXO PREMINT RULE
Added

EXO PREMINT RULE

Players who are found guilty of major offenses according to the carnage rules may FORFEIT their right to a future airdrop of the EXOSAMA token.

Added Moonstones

Export Moonstones for upcoming NFT crafting
Moonstones replace diamonds
They can still be crafted ingame into swords, tools and armor like diamonds
Only Moonstones and Moonstone blocks can be exported, swords, tools and armor cannot.
Moonstone Swords are NOT Moonswords
Moonstone ores generate similarly to diamond ores
Ores can be found between Y: -63 to 14
Ore clusters can consist of 1-12 ores in a vertical arrangement, with gaps between ores
Most clusters will only consist of a single ore
03.07.2022
Cleaning Up
Updated rules

Removed the requirement to show the F3 debug screen in the game recordings (You are still only allowed to use Vanilla, OptiFine, Lunar or Badlion!)
Added clarification that players who need to submit their recordings are contacted by the Telegram/Discord bot
Improved clarity in the section on recording requirements
19.06.2022
Getting Things in Order
Revised Carnage to iron out issues

Updated server selection: Jump into the portal, then select which world to join
Fixed health/food resetting when leaving the server and reconnecting
Fixed many more bugs

Updated rules

Updated suggested OBS setup guide
Added clarification on video requirements
Added clarification on where and when to check for video requests from staff
05.06.2022
Fishing Mastery
The Moonrod can now fish multiple fish at once based on its Lure enchantment level

Get an additional Lure enchantment level per 10 Moonsama power (same as before)
You can only catch multiple fish if you have enough bait
Example: Fish with Lure II, and each time you will use two bait and get two fish at once
Example 2: You only have one bait left, but your rod has Lure III. You will only catch one fish.

The Moonrod can now be used to "catch" treasure

The Moonrod now stays in your inventory after using up all your bait.
Use it to find other random exportable resources (does not use bait)
Your chance of finding treasure instead of fish is 20%
If you have no bait left, your chance is 100% instead
Chances:
1 Cobblestone: 40%
1 Oak Log: 30%
1 Iron Ingot: 20%
1 Gold Ingot: 10%

Small adjustment to the penalty wording for moderate offenses to better reflect the situation.

Old: Moderate offenses result in your rewards to be confiscated.
New: Moderate offenses may result in your rewards to be confiscated.
29.05.2022
Ruling the world
Linking a Telegram/Discord user to Minecraft required

Interact with a social terminal in Minecraft to manage your handles
Needed to reach out to you about important information
Treated with maximum respect for your privacy

Proper Justice system introduced

Members of the police patrol the server, review videos and report players
Elected members of the judiciary panel decide cases
Moonsama governance acts as controlling body

Rules overhauled

Added confirmation code system to make sure everyone has actually looked through the rules
Added fish specimen
Adjusted section on mods to restrict features to builtin ones from official clients
Added clarification on allowed resourcepacks. Clear water is NOT ALLOWED
Added clarification on who may be asked to provide video
Extended penalty section to be more specific about different levels of offenses
Added section on Telegram/Discord registration

Fishing improved

Improved logic to determine where you're allowed to fish
Removed vanilla junk from the loot table
22.05.2022
Gone fishin'!
Dip your bait, wiggle your worm, grab your rod and hold it firm!

Introduced fishing with Moonrods
Removed fishing rod crafting using ingame resources
08.05.2022
Prepping for fishing
Wheat is no longer exportable
Strings are now exportable

Hunt spiders to gather strings
Wool does NOT count

Added section on other gameplay restrictions

Mob farms and similar structures are not allowed
Assisted fish farms are not allowed

Recordings must be submitted within 48h after the game ends
24.04.2022
Governance Update
Changed the server address to carnage.moonsama.com (no port)
Changed the Minecraft version to 1.18.2
Reintroduced Gganbu on EXP
Moonsama power and Gganbu factors correlate linearly (no more curve)
Mob Spawners removed
Rules updated
The carnage game server is now located in London. Players who use VPN to stabilize their connection are recommended to also use a VPN server in London to ensure an optimal network performance.
Rule Changes
Adjusted section on glitches & exploits

Crawling in 1x1 tunnels to mine is allowed
Doing it to see through terrain is prohibited
Using duplication glitches is prohibited
Report any glitches/bugs/exploits you find immediately

Added clarification on valid clients

Forge/Fabric are prohibited

Added section on penalties to clearly communicate existing practice

Negligence will cost you your personal share
Minor infractions will cost you all your rewards
Major violations will cost you your game pass & all your rewards
17.04.2022
Fairplay Update
Rules updated

Added specifications for illegal exploits/glitches
Improved screen recording section
Added requirement for F3 debug screen capture (must be visible for at least 1s in the recording)

Rules & Patch Notes available in browser
10.04.2022
Offhand Update
Offhand swap cooldown (60s)
"No Offhand" selectable to clear the offhand slot
Use drop action Q on offhand to open the offhand selection
27.03.2022
Reward Changes
Bridge more Moonsama for more gganbu rewards
Export wheat as grain
No tax/gganbu on EXP for everyone